Leaving Certificate Music involves a series of interrelated musical activities within each of the three core areas of musical experience – performing, composing and listening.
In performing, students choose from a variety of individual and/or group performing activities. In composing, students develop an understanding of musical structure and form, while the listening component provides for rich aural experiences through exposure to music of different periods, styles and genres. In St. Patrick's Secondary School we offer Music in partnership with Presentation Secondary School. Here students get to study Art in a mixed classroom setting.  
Students can get up to 50 per cent of the total marks in the musical activity that best suits their talent before they even sit the written paper
In music you can develop your talent and knowledge in this area and continue your studies in a wide range of colleges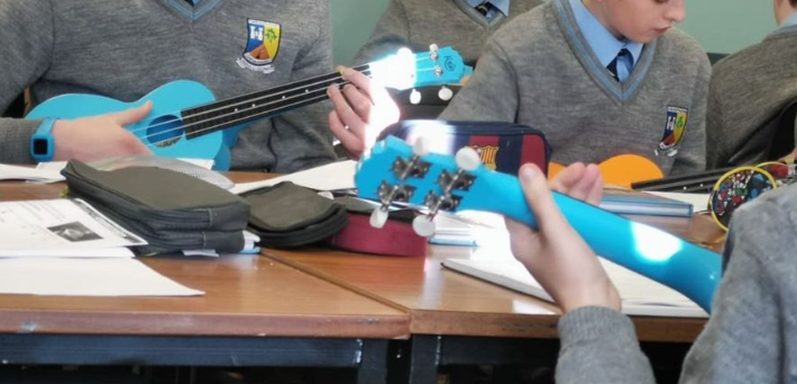 What kind of student would Music suit?
Students who have shown an aptitude for music, such as by getting high grades in Junior Cert Music and are keen to develop and practice more.
If you can read music and have a competence in singing or playing an instrument
Anyone considering a career in a creative discipline such as singing, playing in a band, music production and performance technology and management.
Those interested in the rock and pop areas of music can develop their talents in a number of PLC courses in Rock and Jazz Music, including management.
Students who are looking for a break from intensive memory-work in their other subjects
The course consists of three main components: (1) Composing (2) Listening (3) Performance 
Ordinary level
Students will choose one of the three activities to represent 50 per cent, e.g.
Performing 50% Composing 25% Listening 25% or…
Performing 25% Composing 50% Listening 25% or…
Performing 25% Composing 25% Listening 50%
Higher level
Students will undertake additional studies (a Higher level elective in one of the three activities, e.g.: Performing 25% Composing 25% Listening 25% + One Higher level elective 25%.
This will allow Ordinary level and Higher level students to gain up to 50 per cent of the total marks in the musical activity that best suits their talent.
Musical Performance:
As mentioned above, you can choose to designate 50% of your assessment to musical performance. If you choose this option you have a few further options open to you:
Perform 6 pieces of music on one instrument
Or
You can be examined on two instruments. If you choose this option you are required to perform fours pieces of music on each instrument.
Or
You can choose to perform four pieces of music (25%) and be examined in Music Technology (25%). Music Technology involves inputting music into a software package on the computer and being able to perform music edits on it, e.g. add dynamics or tempo markings, or transpose the music. If you have good computer skills, this could be a nice option for you.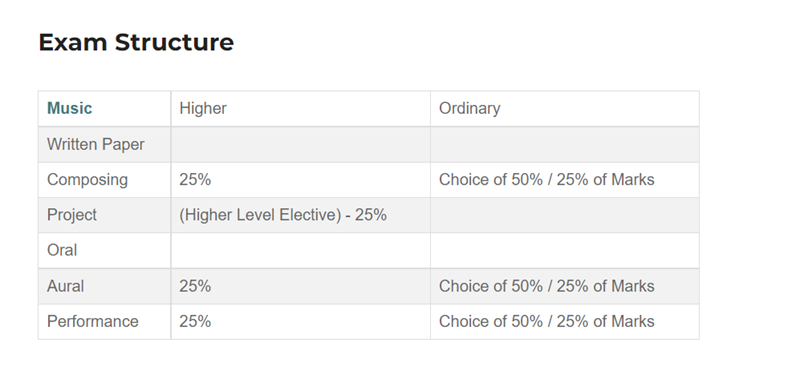 Music is useful for media work or studies, primary teaching, sound engineering, public relations, library work, speech therapy, film, physical education, communications, production, performance and music at third level.
Note: Students are required to be able to read music to study this subject. Little knowledge of music theory or history is not a problem, but a working knowledge of a musical instrument (piano, guitar, voice etc.) is essential.
For more detailed information on the Leaving Certificate Music syllabus click the link below.  
https://www.curriculumonline.ie/getmedia/85bfed8e-207e-4fbc-b8ed-3120cd979a4b/SCSEC26_Music_syllabus_eng.pdf